Enter your email and we'll send you details about Pest
Force's Mosquito Control Plans in your area!
Pest Force Mosquito Control: Take Back Your
Yard Monroe, Georgia
Zap Mosquitoes Away and Get Back to Loving Your Outdoor Space
Is your yard turning into a mosquito haven? Are you tired of itchy bites and buzzing ruining your summer evenings? At Pest Force, we help you take back your outdoor space with our top-notch mosquito control services. Serving Walton County, Georgia, we're the experts you can trust to get the job done.
Why Choose Pest Force for Mosquito Control?
We use fast-acting treatments that start working immediately. Say goodbye to swarms of mosquitoes and hello to peaceful evenings outdoors.
Our mosquito control services offer long-lasting protection, making sure these pests stay away for weeks at a time. You can finally plan that backyard BBQ without the uninvited guests!
We prioritize your family's safety. Our treatments are effective against mosquitoes but safe for your kids and pets, so everyone can enjoy the yard worry-free.
We're so confident in our mosquito control services that we offer a 100% HAPPY guarantee. If the mosquitoes come back, so do we—free of charge!
Ready to enjoy a mosquito-free yard in Walton County, Georgia?
Click the button below to schedule your treatment with Pest Force today. ​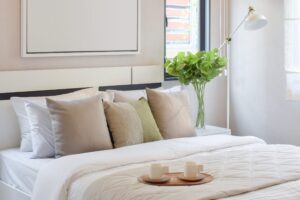 Are you worried about a bed bug infestation? You're not alone.  Just hearing the words "bed bugs" is enough to make anyone cringe. Bed bugs, once inside a home or place of business, can be extremely difficult to get rid… Read More