 Your Hired (Pest) Killers
Ben & Kylie Myers started Pest Force because they believe in helping others. We're not just a bug-fighting team; we make sure your home stays safe from pests while treating you right. You can count on us to keep your home bug-free and to always have your back.
get a free inspection today!
Schedule a Free Inspection!
Fill out the form below or call
678-243-0731
for more information or to receive a free, no-obligation estimate.
Pest Force has a reputation for exceeding expectations and we offer a
"100% HAPPY or you DON'T PAY A PENNY GUARANTEE!"
Whether dealing with ants, rats, spiders, bees, fleas, ticks, well anything, we'll gladly meet your residential or commercial extermination needs. Call us at (678) 243-0731 to book your visit and get your pest problem resolved! Choose a pest control company that gets the job done in Monroe, Loganville, GA and outlining areas.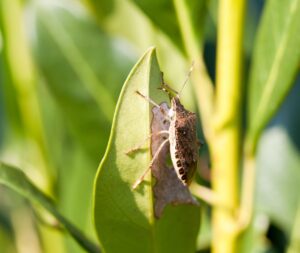 As the days grow shorter and the leaves start to change colors, homeowners in the southern United States prepare for a unique challenge that comes with the fall season: stink bugs. These odorous invaders can be a real nuisance, but… Read More
Local Touch, Global Knowledge.
At Pest Force, we know our local area really well, but we also learn the best bug-fighting tricks from all over the world. Our team uses the latest ways to keep pests out, and we always make sure to give you a friendly, personal service. We're here to help you, and we get what you need.