Enter your email and we'll send you details about Pest
Force's Flea and Tick Control Plans in your area!
Pest Force Flea and Tick Control: Guard Your Yard in Monroe,
Georgia and Surrounding Areas
Stop Fleas and Ticks from Turning Your Outdoor Spaces
into a Danger Zone
Fleas and ticks aren't just annoying; they can be harmful to both pets and humans. If you're in Northeast Georgia and you've had enough of these troublesome parasites, Pest Force is here to help. Our flea and tick control services will get your yard back to being a safe and comfortable space.
Why Choose Pest Force for Flea and Tick Control?
We don't just treat the symptoms; we go after the root of the problem. Our comprehensive treatments target fleas and ticks at every stage of their life cycle, giving you the most thorough protection possible.
With our proven flea and tick control solutions, you can enjoy extended relief that lasts for weeks. No more constant checking of pets or fretting about outdoor activities!
Your furry friends are part of the family, and we keep that in mind. Our treatments are effective against fleas and ticks but are safe for pets and humans alike.
We're confident you'll love the results. That's why we offer a satisfaction guarantee: if the fleas and ticks come back, we'll return at no additional cost to you.
Ready to say goodbye to fleas and ticks in Walton County, Georgia? Click the button below to
schedule your flea and tick control service with Pest Force today.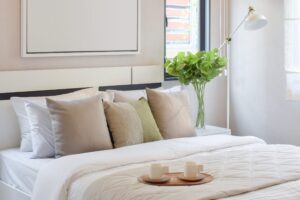 Are you worried about a bed bug infestation? You're not alone.  Just hearing the words "bed bugs" is enough to make anyone cringe. Bed bugs, once inside a home or place of business, can be extremely difficult to get rid… Read More